Landscape Design and Consulting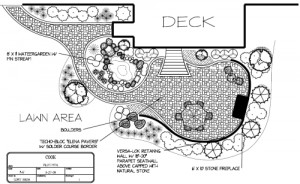 Through the use of Digital Landscape Design combined with our consulting and planning methods, we present landscaping scenarios that best suit your style, needs and budget. Our goal is to partner with our clients, providing landscape design and consulting in Smith Mt. Lake, Mt. Airy, Winston-Salem, King and Summerfield. We take the time to fully understand, design and implement the landscape of your dreams. Our landscapes are not only eye-catching but expand your homes' living space and value. With each of our clients, we follow a three step process consisting of consulting, design and installation.
Consulting
Understanding our clients' vision is the most important step in the entire process. Owner Cory Snow provides each consultation personally, arriving at your home to view the property, discuss your needs and design vision and offering solutions that make sense and are beautiful. By discussing options, the pros and cons of each and developing your design based on this feedback, we can provide a solution that factors in all considerations creating a cohesive space that your family will enjoy for years to come.
Design
Creating a design that allows our clients to fully envision what their landscape will look like is important. We use a digital landscape design program and scaled drawing to create the most realistic representation possible. Based on our scaled drawings and design review with the client, we will make any adjustments needed and finalize the landscape design plan.
Installation
After finalizing a design plan we begin installing the hardscaping and structural elements that are the base for the new design. These include items such as any water features, irrigation, retaining walls, patios, steps, walkways, firepits or privacy buffers. Next we begin planting shrubs and trees, laying sod or grass seed and ground covering materials to pull the design together. We use full time employees and pay close attention to detail and craftsmanship on every project.
We guarantee all shrubs and plant materials for one year.
We guarantee all hardscaping projects for two years.