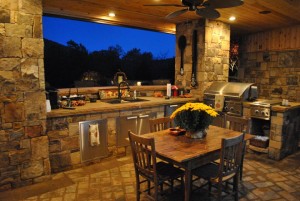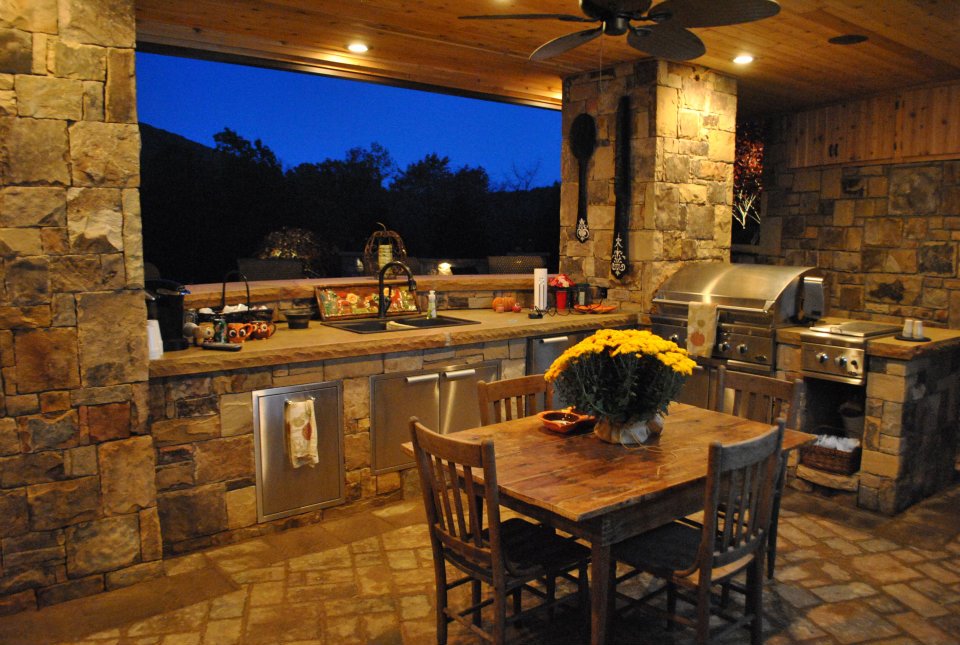 Goal: Create a family oriented entertainment area that consists of 7 main features including patios, swimming pool, fireplace, fire pit, playground and outdoor kitchen.
Design: This design was created by what we call the "On the Fly Design". We had a vision of the finished result, but as we were constructing the project we didn't necessarily stick to a so called plan. By doing this we can really incorporate all of the creative ideas we had during construction and implement them.
Deck – Redesigned existing deck to accommodate for kitchen area below. Installed treated flooring on a 45 degree angle, constructed railing out of rough sawn cedar with 6″x6″ post, 4″x4″ top and bottom rail, with aluminum antique bronze pickets and 2″x6″ top plate. Beveled all edges of the railing and post.
Created a short hip roof along outside edge of deck to accommodate for the recessed can lighting in the kitchen area.
Install a "dry under deck system" for the kitchen area.
Stone Kitchen Area – Gas grill with rotisserie, double side burners, outdoor refrigerator, pullout trashcan, 2 sets of cabinets under sink and grill, double bowl sink, faucets that can be drained for winter, arched stone bar area, custom fabricated 3″ thick stone countertops, recessed receptacles for countertop appliances, cedar built-in cabinets for pool toys (built with contour of wall), v-groove cedar ceiling, recessed can lights on dimmer, outdoor fan, TV on stone wall with hidden controls Read the rest of this entry »
Summerfield NC Landscaping and Patio Installation Project
Our latest project involved a two year old home in Summerfield that was in need of a complete exterior landscaping makeover throughout the backyard. As new construction, the homeowner was left with a clean pallet and no existing structures in place so they could create their very own custom landscape and patio design.
Cory combined the family's needs and design preferences with materials and an overall layout that would work best given the landscape and existing characteristics of the home. Cory reviewed the plans with the family so they could Read the rest of this entry »
Welcome to the Cardinal Lawn Scapes Blog
Thank you for visiting www.cardinallawnscapes.com and moreover our blog. In the coming months, we will try to provide you with useful information about how to maintain your hardscaping or landscaping, provide photos of our latest projects and provide answers to frequently asked questions. We are a family owned company and Read the rest of this entry »