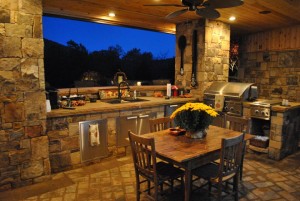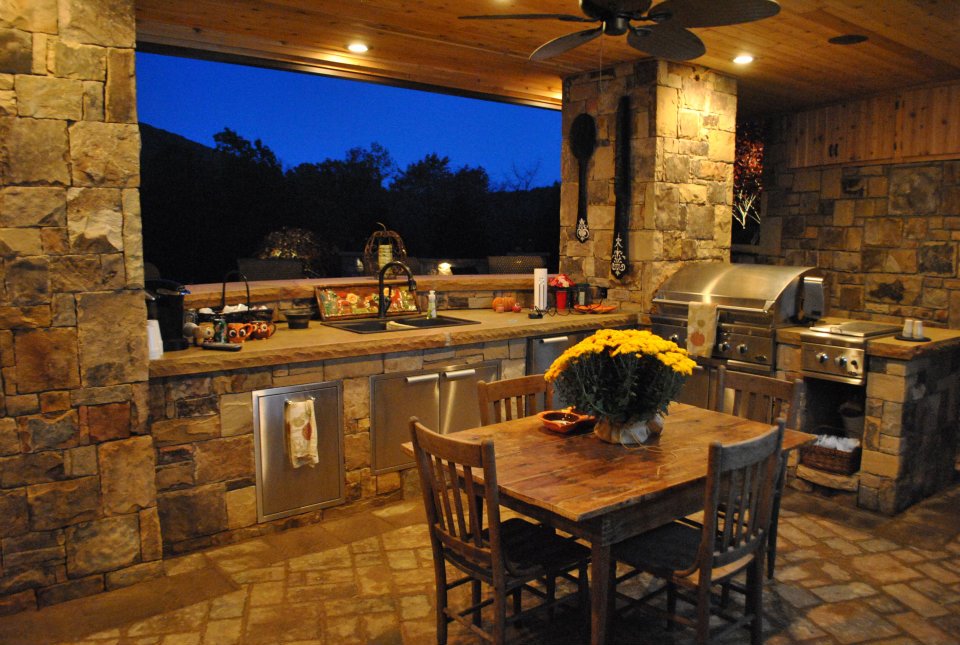 Goal: Create a family oriented entertainment area that consists of 7 main features including patios, swimming pool, fireplace, fire pit, playground and outdoor kitchen.
Design: This design was created by what we call the "On the Fly Design". We had a vision of the finished result, but as we were constructing the project we didn't necessarily stick to a so called plan. By doing this we can really incorporate all of the creative ideas we had during construction and implement them.
Deck – Redesigned existing deck to accommodate for kitchen area below. Installed treated flooring on a 45 degree angle, constructed railing out of rough sawn cedar with 6″x6″ post, 4″x4″ top and bottom rail, with aluminum antique bronze pickets and 2″x6″ top plate. Beveled all edges of the railing and post.
Created a short hip roof along outside edge of deck to accommodate for the recessed can lighting in the kitchen area.
Install a "dry under deck system" for the kitchen area.
Stone Kitchen Area – Gas grill with rotisserie, double side burners, outdoor refrigerator, pullout trashcan, 2 sets of cabinets under sink and grill, double bowl sink, faucets that can be drained for winter, arched stone bar area, custom fabricated 3″ thick stone countertops, recessed receptacles for countertop appliances, cedar built-in cabinets for pool toys (built with contour of wall), v-groove cedar ceiling, recessed can lights on dimmer, outdoor fan, TV on stone wall with hidden controls
Fireplace – Built with same contour of retaining wall; all stone was hand chiseled and layed in "dry stack" style, stones were pitched on face to reveal the colors below natural face, stones around fire box profile, hearth and mantel were cut and chiseled from large 5″ thick slabs of stone; firewood boxes were created to mimic a smaller version of the fire box opening
Fire Pit – Small boulder fire pit with cobblestone pavers to help define area, arched stone bench to create a "cozy knook"
Pool – a "Lagoon" shaped pool with 8′ deep end for diving and slide; raised area around deep end of pool was created for the use of a 3,150 lb dive rock and custom slide, pool coping fabricated from variegated stone that was cut from templates then thermal heated to create a natural bull nose edge, a concrete slab with sonotubes extending down to pool footer was poured below paver grade around entire pool (this was done to achieve 100% compaction needed for paver pool deck)
Patios – a tumbled 5 different size paver were used for patios; different levels were designed to create the feel of different "rooms"; these transitions were achieved by using large stone slabs for step downs and ups
Playground – this area was made where it can be visible from all areas for the safety of kids, cedar mulch was used for groundcover
Lighting – the lighting design had to be considered during all stages of construction, all fixtures are crafted from solid bronze, 1 stainless steel transformer controls all the fixtures